Good morning friends!!
Lately I've been finding more and more modest fashion blogs and I. am. loving. it!
I like modest fashion.
I think you can dress cute and stylish without showing things that don't
need to be shown (you know what I mean, right?).
That's why I'm so excited to share a new blog with you called, Modestly Chic!
I think you will love it! Paola (pronounced Paula) shares her love of popular fashion with a modest twist. Please stop by her blog and say "Hello" and follow Modestly Chic on Facebook and twitter too!
Thank you Paola for guest posting for me today~~
I grew up in a religious family and was always taught to dress modestly.
I knew it was something I should do, but of course during my teenage years I wanted to wear what all the other girls in school were wearing.I went to a wealthy school where designer and brand names were all the rage. Fashion was important.
Now that I'm older, a little wiser, and most importantly – a mother, I understand the importance of modesty more.I also understand that being fashionable doesn't mean I have to bare it all.
It is possible to be modest and fashionable at the same time. So what made me come to this realization? That would be my sweet and adorable 3-year-old daughter.
One day, while going through all my clothes to find the perfect dress up outfit, she came across one of my tops. It wasn't inappropriate in any way, just a silky sleeveless blouse with a scoop neck.
Of course on my 3-year-old, it fit more like a dress and hung low exposing some of her chest. I offered to help her find another top when she said "but mom, it shows my boobies like yours".
Now, I'm not saying I wear low-cut blouses or anything revealing, but some of my tops do show a little more cleavage than my 3-year-old needs to be seeing on mommy.
This made me re-think my wardrobe choices. Since then, I've looked on how to take today's fashion and give it a modest twist to better fit me and my lifestyle.
I want my daughter to look at me and see a stylish mom that she can admire. But most importantly, I want her to look at me and see that modesty is beautiful.
I love to look at celebrity style and put my own personal (modest) spin on it, like this outfit on Elizabeth Banks from the Hunger Games premiËre.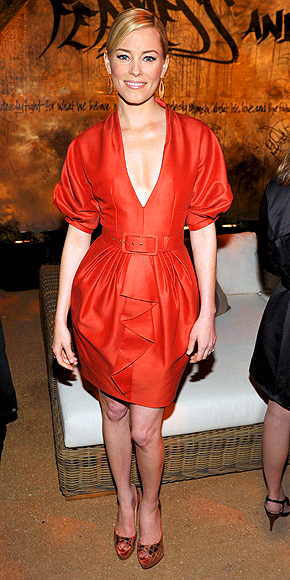 Photo Credit: People.com Style Watch
She looked absolutely stunning, but that low-cut would be a big "no-no" for me. Here's my spin on her outfit:
My love for fashion hasn't been diminished by my aspiration to be modest. If anything, it's allowed me to be more creative!
Don't you think we could use a little modesty today?